Mission Statement
ChampChange is an engagement incentive program for undergraduate students. Eligible students earn ChampChange points by attending workshops, tutoring sessions, learning centers, success appointments, fitness center, football games, and many other activities on campus. Students may use earned ChampChange points to purchase prizes at several auctions held throughout the semester. The Allen Yarnell Center for Student Success is in part with the overall university's effort to increase retention rates at MSU. Research has shown that students who feel connected to their university are more likely to persist to graduation. As a way to foster that connection, ChampChange encourages students to become active members in their community through participation in events and activities around campus.
How to Earn Points
Attend ChampChange sponsored student events and activities. All the events students can earn ChampChange from can be found on the
upcoming events
. Students can also earn ChampChange by swiping their Cat Card through one of our permanent readers, listed below. A student will earn 300 ChampChange points, which can be used towards monthly prizes, by going to the gym after class one day. If an essay is giving a student trouble, go to the writing center and earn 700 points. ChampChange is an easy way to get involved in campus activities and earn rewards for it!
Permanent Card Readers: Visit these locations and swipe your Cat Card
Student Tickets: 500 Points
Writing Center: 700 points
Fitness Center 300 Points
BBCC Writing: 700 Points
Gallatin College Program: 500 Points
Math Lab: 500 Points
Physics Help Center: 700 Points
Library Main Door: 300 Points
Reference Librarian Desk: 500 Points
Visit Allen Yarnell Center for Student Success: 700 points
M&IE Help Center: 700 points
SUB Rec: 500 points
ITC Help Desk Library: 500 points
ChampChange Auction Prizes Include
$1000 tuition check
MSU Hat
MSU Draw String Bag
Slow Cooker/ Crockpot
Mini Fan
Blu Ray Clearance
Desk Lamp
Backpack
Coffee Maker
Dumb and Dumber & Dumb and Dumberer DVD
Step Brothers DVD
MSU Thermal mug
Printer
Photo Line
Aladdin Mason Tumbler
Auction Dates
Online Auctions:
September 25th
October 23rd
Both are from 5-8 pm
Final Auction:
December 3rd
starts at 6 pm in the SUB Ballrooms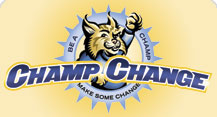 9/30
KPMG Interview
9/30
Resumes for Federal Jobs
700
9/30
How to Navigate MSU
700
9/30
Applying Your Military Skills to the Civilian Sector
700
10/1
How to Navigate usajobs.gov
700
See more events...