Mission Statement
ChampChange is an engagement incentive program for undergraduate students. Eligible students earn ChampChange points by attending workshops, tutoring sessions, learning centers, success appointments, fitness center, football games, and many other activities on campus. Students may use earned ChampChange points to purchase prizes at several auctions held throughout the semester. The Allen Yarnell Center for Student Success is in part with the overall university's effort to increase retention rates at MSU. Research has shown that students who feel connected to their university are more likely to persist to graduation. As a way to foster that connection, ChampChange encourages students to become active members in their community through participation in events and activities around campus.
How to Earn Points
Attend ChampChange sponsored student events and activities. All the events students can earn ChampChange from can be found on the
upcoming events
. Students can also earn ChampChange by swiping their Cat Card through one of our permanent readers, listed below. ChampChange is an easy way to get involved in campus activities and earn rewards for it!
Permanent Card Readers: Visit these locations and swipe your Cat Card
Student Tickets: 500 Points
Writing Center: 700 Points
Fitness Center 300 Points
BBCC Writing: 700 Points
Gallatin College Program: 500 Points
Math Lab: 500 Points
Physics Help Center: 700 Points
Library Main Door: 300 Points
Library Research Center: 500 Points
Allen Yarnell Center for Student Success: 700 Points
M&IE Help Center: 700 Points
SUB Rec: 500 Points
ITC Help Desk Library: 500 Points
Office of Financial Education: 700 Points
Veteran Support Center: 700 Points
Academic Advising: 700 Points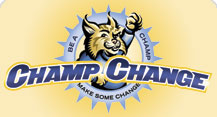 | | | |
| --- | --- | --- |
| 2/27 | | CHMY 141, M 161 Common Hour Study Session |
| 2/28 | | From Communism to Capitalism in East European Countries: Perceptions and Realities |
| 3/1 | | Turf Wars and Professionalism: The Battle for Legitimacy in the Academy of Nutrition & Dietetics |
| 3/1 | | Sack Lunch Seminar: Turf Wars and Professionalization in Nutrition and Dietetics |
| 3/1 | | CHMY 121, M 151, PHSX 205 Common Hour Study Session |
See more events...